08.08.2019
bpv Huegel advised AnaCap on the sale of the FinTech company heidelpay Group to KKR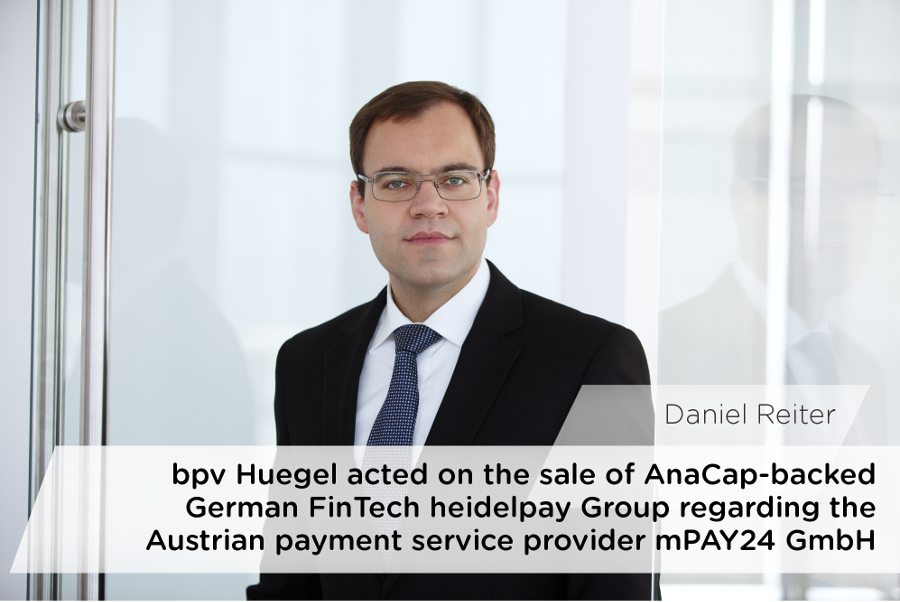 bpv Huegel advised AnaCap Financial Partners on the sale of its majority shareholding in heidelpay Group with respect to the Austrian subsidiary, the payment service provider mPAY24 GmbH.
Acquirer is the US investment firm KKR.
Financial details of the transaction were not disclosed.
The team of bpv Huegel already advised AnaCap/heideplay in 2017, on the acquisition of mPAY24 GmbH.
The Transaction is inter alia subject to approval by the German Federal Financial Supervisory Authority and the Commission de Surveillance du Secteur Financier (CSSF). It is expected to close in the first quarter of 2020.
Lead Counsels of the transaction were Herbert Smith Freehills and Proskauer. The bpv Huegel team, led by Daniel Reiter (Corporate/M&A, Regulatory), included Sonja Dürager (Data Protection, IP/IT), Christoph Nauer (Corporate/M&A, Regulatory), Thomas Lettau, Holger Steinborn, Tamara Tomic (all Corporate/M&A) and Paul Pfeifenberger (Employment).
Founded in 2003, heidelpay Group is a leading full-service payment provider that offers a complete range of payment processing services to online and face-to-face merchants. heidelpay facilitates payment acceptance on behalf of merchants across various payment methods for e-commerce, m‑commerce and at the physical point of sale. heidelpay currently serves more than 30,000 retailers and marketplace operators, focusing on SMEs and corporates.
AnaCap is a leading asset manager in the European financial services sector, investing across the vertical through complementary Private Equity and Credit strategies. Since 2005, AnaCap has raised EUR 4.7bn in capital while the team has grown to more than 70 professionals across 6 offices including London, Luxembourg and New Delhi. Through its Private Equity and Credit strategies, AnaCap provides a complementary suite of solutions to sellers and management teams, supported by a deep track record of investing in financial services with over 70 primary investments completed across 15 jurisdictions.